Norfolk and Suffolk police have launched their Operation Close Pass, using unmarked police cyclists to identify drivers who don't give 1.5m (a bit over half a car's width) of space when overtaking. Any motorists identified are then stopped by uniformed traffic police and offered a choice between a ticket and an education session nearby if it's their first offence.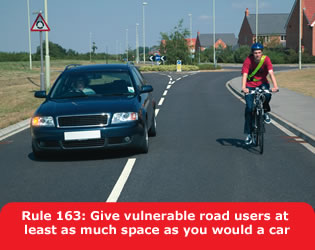 In the first Norfolk operation, four motorists were stopped: three accepted the education session and one car was seized due to no insurance, MoT or licence, plus the driver arrested on suspicion of drug driving.
Read more in Three motorists pulled over in Norwich for driving too close to undercover police on bicycles in city sting - Crime - Eastern Daily Press but you might want to skip the comments section which is full of the usual bike-bashing. Many of them are asking for cycling offences to be policed, but they already can be, whereas Operation Close Pass adds something new and long overdue to traffic policing. There's also the point made by West Midlands Police when they started the first operation, that bad cyclists are mostly mere irritations while bad drivers are easily killers.
The first operation was in Norwich, where the highest proportion of Norfolk's cycling casualties occur, but we hope it will be repeated in future. Well done Norfolk police and thank you to all the other cycling groups and campaigns who asked them for it!