Eagle-eyed correspondent Craig Doig drew our attention to signs saying that the road across Tennyson Level Crossing in King's Lynn will be closed for three days at a time during February. MJ called the works and confirmed that it is closed for the weekends of 1/2 Feb and 22/23 Feb 2020, from midnight Friday to 4am Monday each time.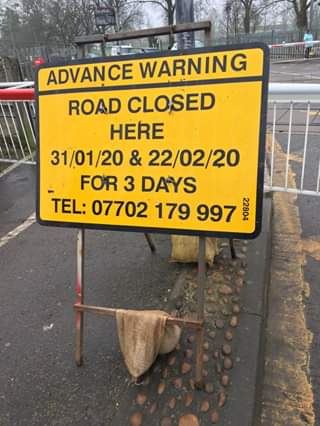 The official diversion is likely to be signposted along the Swaffham Belt aka Sand Line Path, over the Iron Bridge and back along Rollesby Road, Extons Place and Avenue Road, as shown in red on this map. Riders following National 1 between the town centre and North Lynn or South Wootton will find it quicker to go via Morrisons, Highgate, Kettlewell Lane, the long pond and Columbia Way and leave/join National 1 at Lynnsport (shown in orange), or to follow the cycle route signs between the Docks and Lynnsport if they don't mind the bit of busy-but-slow A road across the docks/Retreat level crossing.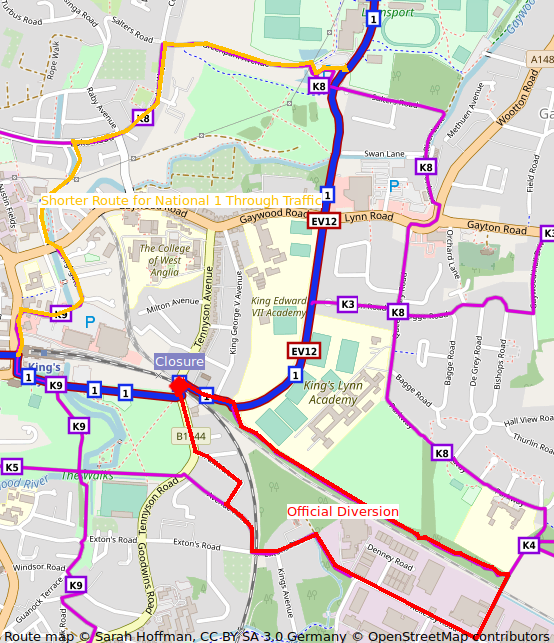 A minibus will be provided, intended for walkers who struggle with the extra distance, but MJ was told it will be able to take bikes of people who can't cope with the slalom-barrier-infested official diversion.
Please take care, try to remember to divert before you reach the closure and don't abuse the site marshals — they didn't plan this closure.